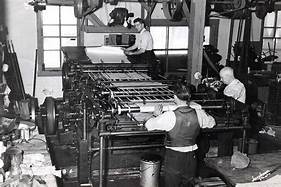 Read Time:
1 Minute, 59 Second
Before the Printing press came to India the main communication system used by the Indian basically the oral communication and the written communication. The king and the noble men at that time basically appointed the messengers and spices to collect the different area of the different area of their province. But the common men depend upon the oral communication system because the main problem was the illiteracy. Book published was an impossible affair for the Indian people before 16th century. India got its first printing press by the Christian Missionaries who wanted to produce the Bible in the several languages in the country, who introduced printing and publishing in India.
Infect it got the 1st printing press accidentally in 1542 a Spaniard missionary Francis Xavier was stitching the Bible Tharangambadi, Tamil Nadu. He requested the Portugal King John III to send a printing press to India, that time viceroy of Goa on behalf of King John III opened schedules for Indians. Thus, pressure was put on Portugal by the missionaries to dispatch printing presses to India. In the meanwhile the emperor of Abyssinia (Ethiopia) requested the King of Portugal to send a press along with the missionaries. Thus the first batch of missionaries left for Ethiopia in 29th March 1556 in root they arrived in Goa from 6th September 1556, while they were prepared in the proceed to Ethiopia emperor was not interested to receive the missionaries. Then the press stayed in Goa and was set up at the college of ST Paul in Goa.
The 1st literature that printed in 6th November 1556 then the diction arise established a number of printing presses in many parts of India triggering a language and literature evolution. If the location of the earliest printing presses in India were plotted on the map it will be found that they were all located along the coast line of peninsular India; Goa, Cochin, Punnaikkyal, Vypicottin, Ambalakkadu, Tharahamabadi, Madras, port William, Calcutta, Sera pore etc.
The real development in printing started in India when William Curacy reached here in 1793 with the cooperation of his friends he established a press in Serampur in 1800 and published some regional news paper like Samachar Darpan, Digdarshan etc. before this India had get its first news paper 1780 by Gems August Hicky and then the development of newspaper started in our country continuing.