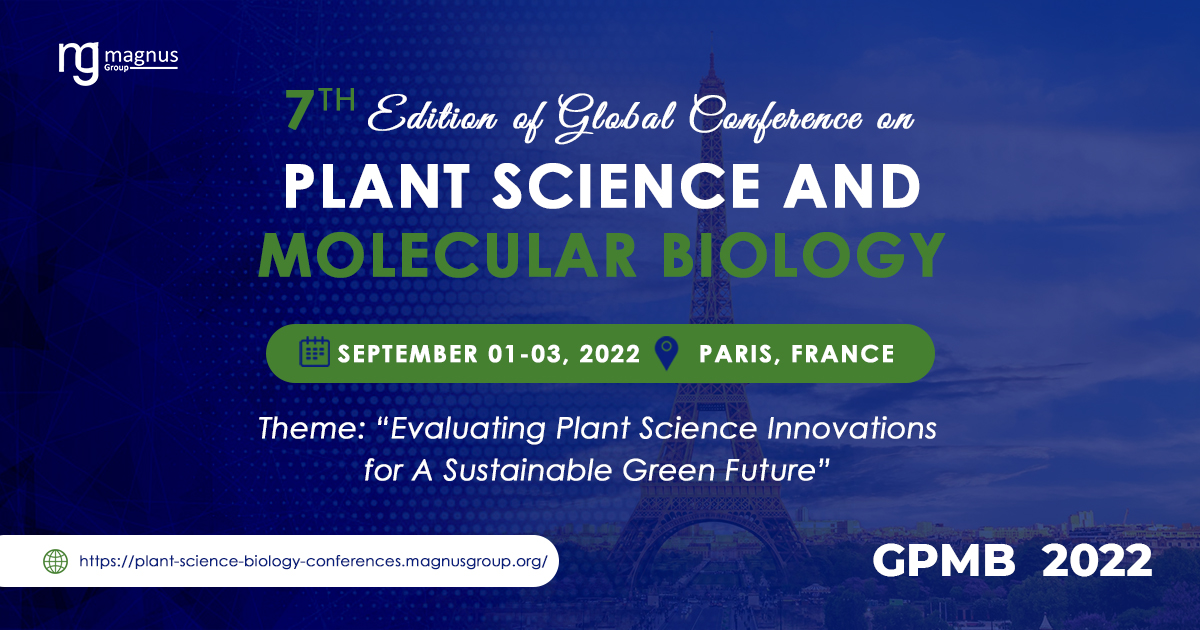 Read Time:
1 Minute, 21 Second
With great pleasure Magnus Group extends greetings and warm welcome to everyone to be a part of its highly established event "7th Edition of Global Conference on Plant Science and Molecular Biology" (GPMB 2022) which is going to be conducted in a hybrid format allowing both virtual and in-person attendance at Paris, France slated during September 01-03, 2022.
The conference will be themed on "Evaluating Plant Science Innovations for A Sustainable Green Future."
GPMB Conferences are annual gatherings that are known for knowledge sharing, research ideas, and specialised techniques and topics in the field of Plant Science and Molecular Biology. Our professional honorary speakers, scientists, researchers, botanists, agriculturists, biotechnologists and industry professionals will give you the most clinically relevant and up-to-date knowledge; you'll leave better educated and energised than you ever imagined. Throughout the three-day congress plenary talks, keynote sessions, oral and poster presentations will focus on interdisciplinary and transdisciplinary themes that address problems in numerous sectors of plant science and molecular biology from a variety of academic and practical perspectives. Our goal is to create an environment that is both motivating and exciting for constructive and critical communication, networking and collaboration.
Contact Email: [email protected]
Phone: 1 (702) 988 2320
Dates: September 01-03, 2022
Venue: Allee Des Vergers 95700 Roissy, Paris, France
Website: https://plant-science-biology-conferences.magnusgroup.org/
Upcoming Plant Science Conferences: Plant Science Conferences 2022 | Plant Science Congress | Plant Biology Conferences | Plant Biology Conferences 2022 | Plant Science Meetings 2022 | Plant Science Events | Botany Conferences | GPMB 2022 | Plant Conferences 2022 | Plant Conferences | Plant conference 2022 | Plant Conference | Plant Science Congress 2022